About Surin Islands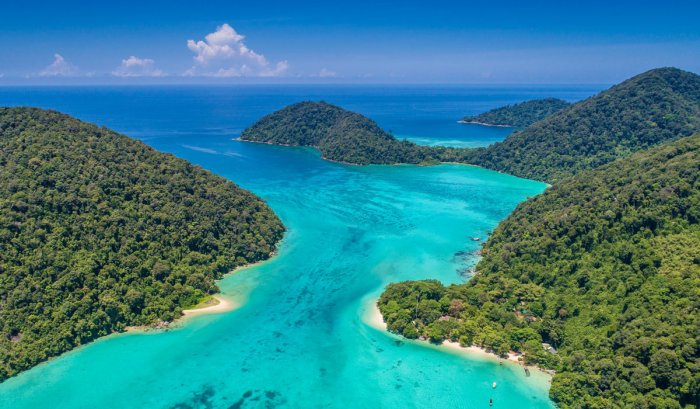 About Surin Islands
Surin Island is in
Mu Koh Surin National park
, found some 60 km off the west coast of Phang Nga province, and 100 km north of the Similans, is an archipelago of the 5 islands
Koh Surin Nuea, Koh Surin Tai, Koh Ri, Koh Khai, and Koh Klang
.
The excellent snorkelling is what most visitors come for, and those hoping to find a quiet refuge from the tourist traps and urban centres will be delighted with the islands' lack of "development".
The main island of
Surin Nuea
has several bays, the largest being
Ao Mae Yai
on the southwest, which features calm waters and safe anchorage. On the southeast side is
Ao Luek
, which has shallow corals and an abundance of marine life.
Ao Mai Ngam
is where the National Park's office is found, as well as a 2-kilometre walking path. There's good snorkelling and swimming here off its long beach.
Ao Chi
at the north of Surin Nuea is a beautiful bay of pristine coral reefs.
Surin Nuea is also home to a community of the
Moken
, or "sea gypsies", who have settled there on a semi-permanent basis for several decades. The Moken spend much of their lives on their boats, called "kabang". They survive mainly through the gathering of shellfish and other marine life from the reefs and mudflats rather than fishing
The second most visited island is
Koh Surin Dtai
, which draws snorkellers to its main bay,
Ao Tao
, on the east side.
Koh Ri, Koh Klang and Koh Khai
(also called Koh Torinla) each feature areas of unspoiled reefs, with healthy live coral being particularly abundant off Koh Khai.