Koh Haa - Cathedral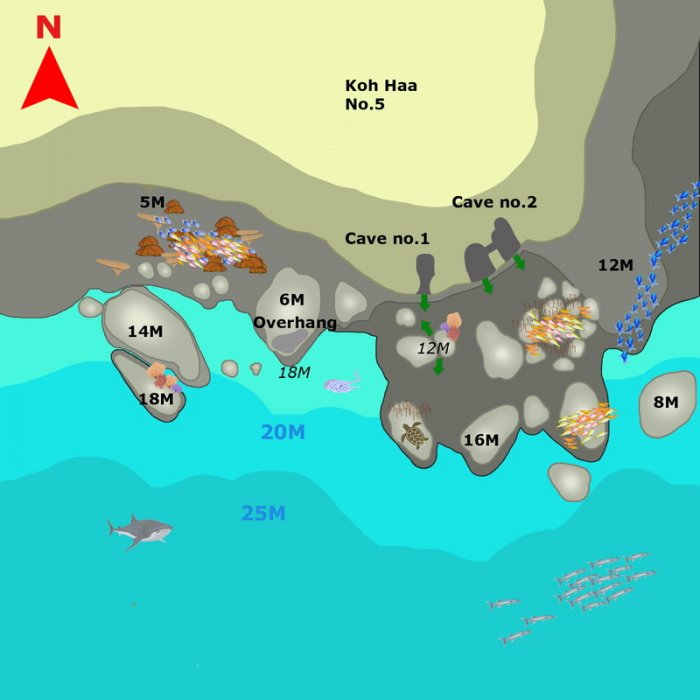 Koh Haa #5



Ko Haa's white-sandy beaches, stunning karst islands, crystal clear waters, shallow lagoon and beautiful reefscapes make this site a photographer's dream and is one of the best macro sites in the area. The 12+ dive sites at Ko Haa offer beautiful scuba diving and snorkeling with spectacular visibility. Diving at Ko Haa is suitable for divers and snorkellers of all levels.
Ko Haa's scuba diving highlights include The Cathedral, The Chimney and The Lagoon. There are also underwater pinnacles, drop-offs, walls, boulders and other caverns, inter-connected chambers and swim-throughs to explore.
Ko Haa, which means 'Five Islands' in Thai, has a central lagoon area that is ideal for beginner divers. It offers a safe and relaxed starting point for you to take your first underwater breaths and there are some extremely friendly little Porcupine Puffer Fish, ready to make your acquaintance in the large, sandy bay area. The bay slopes gently onto the reef allowing you to progress into your first dive effortlessly.
The marine life that can be found at Ko Haa varies from rare Ghost Pipefish measuring only a few centimeters to an abundance of Octopus hiding amongst the rocks and crevices. A Hawksbill Turtle is often seen swimming amongst the pristine coral. Marble Rays, Eagle Rays, Whale Sharks and even Manta Rays are spotted here occasionally. You can't predict exactly what you'll see, but it's always a pleasant and rewarding surprise!
Ko Haa Yai 5 dive site is also called the Cathedral. The site is located 30 min by boat from Koh Lanta. Around 20 m deep, there are cave entrances leading to a superb underwater Cathedral. Enter the cave system only if you are an experienced diver and you know what you are doing. This spot is perfect for photography with great shot opportunities of the superb underwater ambiance. The marine life is also superb with turtles, whitetip reef sharks and all the usual reef fishes of the Andaman Sea. The current can be strong, so always plan your dive carefully.
Type of Dive
Reef, Rocks, Cave
Depth
5 - 20 metres
Visibility
10 - 20 metres
Temperature
27 - 29 degrees C
Difficulty
Beginner / Intermediate / Advanced
Thank you to
Similan Dive Guide
for the provision of the map.