Richelieu Rock (November - April)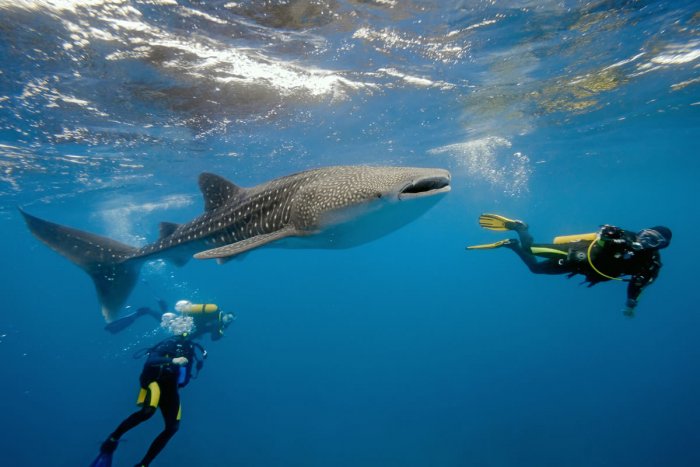 Diving with Whale Sharks



This place is Thailand's premier dive site and one of the best places in Thailand to see Big Pelagics, macro treats like Harlequin Shrimp and incredible corals all at one site. This huge pinnacle climbing from the depths of the Andaman Sea attracts scuba divers from around the world. The incredible concentration of biodiversity at one single site makes Richelieu famous throughout diving circles.
There are only two safe ways to visit Richelieu Rock – Day trip boat or Liveaboard.
The trips depart Khao Lak in the mornings and return by evening during the six month season. As Richelieu Rock is exposed, with no protected moorings … day trips can often be canceled due to bad weather.
Usually, liveaboards include at least two dives at Richelieu Rock as part of their itinerary and may add more dives here if guests wish. The most difficult decision for underwater photographers is which lens to dive Richelieu with!! Of course, a wide angle lens is best for whale sharks but there is incredibly good macro photography to do here too.
Where is Richelieu Rock?
Richelieu Rock is part of the Surin National Marine Park, yet located about 18 kilometers east of the islands themselves. Richelieu Rock is just barely exposed at the lowest of tides-thus a navigational hazard for those boats not equipped with a GPS navigation system.
Situated 200 kilometers Northwest of Phuket and only 70 km from Khao Lak – the rock is far closer to the Burmese (Myanmar) border than it is to Phuket.
Diving Richelieu Rock
Located in the middle of the sea, Richelieu Rock provides no shelters for the boats. So there are only a few day trips that visit there and many liveaboards that include this site as part of their routes. As there is no protection most descents are usually done right off the back of the boat – not tied up.
Aiming for a depth down of 30-35 meters for both maximum time and pleasure! Many of the outlying boulders have incredible treats for intrepid visitors. A slow circle of a site should bring you close to your safety stop by the end. As there is a current and very little protection – this is definitely a site for using a surface marker buoy.
You can dive here over and over and see something new.
Richelieu Rock Currents
The currents change constantly, and it's not always an easy dive. But, if you have an experienced dive guide and they give a well-detailed briefing, you can learn how to hide from the currents and have a very enjoyable dive. Experienced guides in the area prepare for this and will have you drop off the site so you can drift into by the time you have descended.
Note
Trips to the Richelieu Rock only from November to April.
This dive site is not suitable for snorkeling or introductory dives (Discover Scuba Diving)!
Here we recommend day trips for snorkelers by speedboat to the
Similan Islands
or
Surin Islands
.
Furthermore as well
Speedboat Charter
for diving or snorkel trips