Information and Prices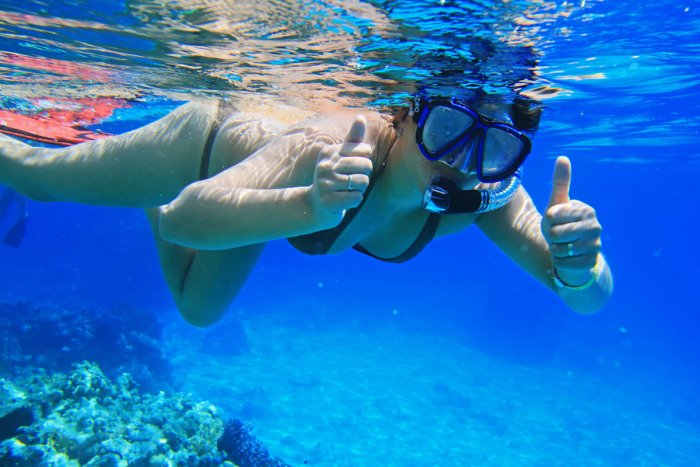 What to bring
Swimwear, shorts, light t-shirt, beach towel, sunscreen, rash guard, sun cap, sunglasses, beach shoes and flip flops.
What's included
- Hotel return transfer in an air-conditioned minivan
- Licensed tour guide
- Full snorkeling equipment (fins, mask & snorkel)
- All National Park fees and viewpoint fees
- Refreshments: water, soft drinks, fresh fruit & cookies
- Buffet Thai lunch (vegetarian menu available on request)
- Life Jacket
- Accident Insurance
Please send inquiries by email to info@me-diving-khaolak.com
Prices
from Khao Lak & Phuket
Adult
3.900 Baht
Children
(4 to 12 years): 2.450 Baht
Weather & Sea Conditions
Between November and January – especially around Christmas and New Years – steady northerly winds regularly create short bumpy waves, which can make parts of the boat rides uncomfortable. Although this does not affect the safety of the boat rides, we cannot guarantee enjoyable boat rides to every individual on every given day. We experienced a wide range of individual guest reactions to these conditions. As the Family Tour and Koh Kam tour do not require the speedboat to leave sheltered waters at any time, this does apply to all tours except Family Tour and Koh Kam tours.
From February on weather and sea conditions are usually very calm and comfortable.
Note
We reserve the right to change or adjust the itinerary of the tour if necessary due to weather changes or any other unforeseen circumstances.
Medical Advice
Individuals with the following medical conditions are excluded from this speedboat tour:
• Back Issues
• Heart Issues & Diseases
• Pregnancy
• Epilepsy
Please be advised that this is a safety regulation by the Thai Department for National Parks and there is no insurance cover for individuals with these conditions whatsoever on speedboat tours!
Cancellation Policy
Until 24 h before tour departure, you can cancel your tour anytime via email or phone call. If you do not have any communication devices, please ask your hotel reception to call us.