About Similan Islands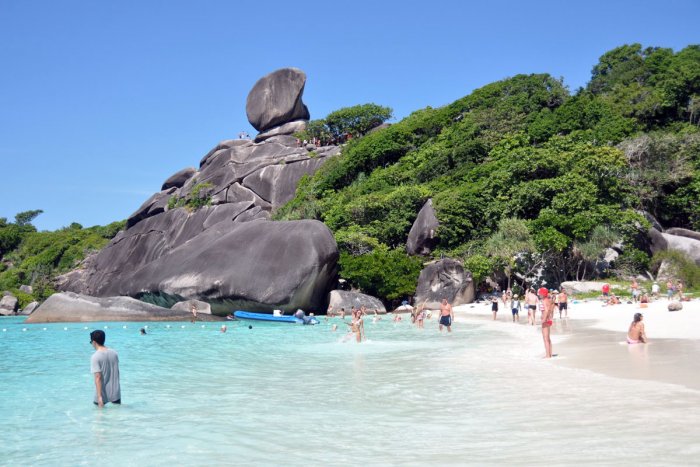 Here are some of the most beautiful and diverse diving and snorkeling spots in Thailand, day trips and liveaboards to the islands are among the most popular in the world.
There are nine islands of granite rocks, some with lush tropical vegetation, lapped by crystal clear waters and some with fine white sandy beaches.
The islands stretch like a string of pearls 25 kilometers north to south in the Andaman Sea and lie 65 kilometers off the coast of Phang Nga province.
They were declared a marine national park in 1982.
The Similans are ideal for observing or photographing small fish due to their enormous biodiversity of tropical reef fish. But there are not only small fish here, but also leopard, white and black tip sharks are not uncommon; manta rays and whale sharks can also be observed. One can visit Similan National Park on day trips from mid-October to mid-May, but the best conditions are found from November to April.
All guests will be picked up at the hotel and taken by taxi to the pier at Nam Khem, north of Khao Lak.
Rules for National Park Tours
1. For bookings we need first name, surname, nationality, date of birth and passport number
2. For divers also: dive level, number of entered dives and date of the last dive
3. Visitors must carry a copy of their passport
4. Drone flights are strictly prohibited
5. Beginner courses are no longer allowed on the Similan Islands
6. Overnight stays on the Similan Islands are no longer permitted
7. Bookings must be made in advance, no later than 18:00 the day before
8. National Park fees (tickets) are personal and will not be refunded in the event of cancellation
Since there are only a limited number of tickets for the Similan National Park per day, we strongly advise you to book tours in good time!