Land Activities in Phang Nga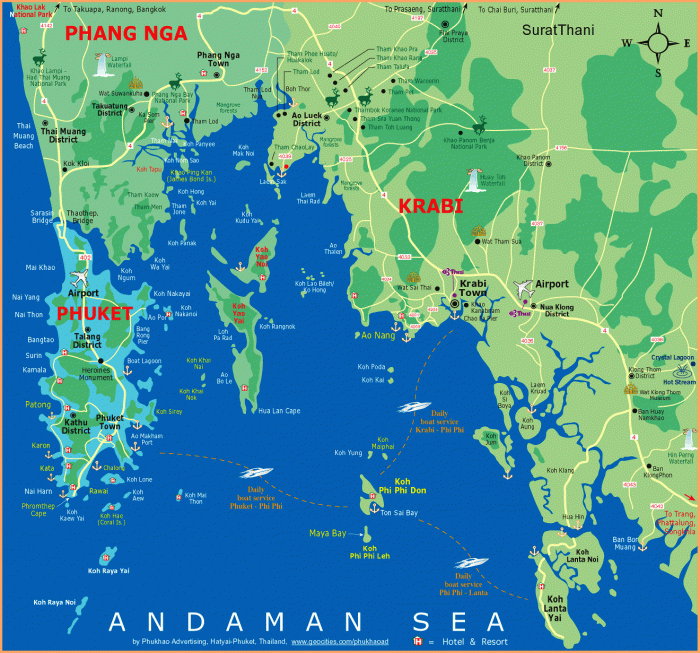 Khao Lak is located in the middle of the west coast of the province of Phang Nga and is by its central location an optimal starting point for tours and excursions to the surrounding area.
The province of Phang Nga is one of the greenest provinces in Thailand, about 60% of the province is farmland and the rest stills secondary or primary forest (rainforest). The province includes several small and large national parks, such as the Khao Sok, Lamru, Sri Phang Nga-, Ao Phang Nga Marine, Similan or Koh Surin National Parks.
There are some waterfalls in the vicinity of Khao Lak such as Sai Rung or Rainbow Waterfall, Chong Fa, Ton Pring, Lampi and the Tong Prai Waterfall. The waterfalls lead enough water from May to November, while in the rest of the year it is rather little, as not enough rain falls.
Many guests would like to explore the area by motorbike or by car. We can recommend this only to a limited extent because it is hard to find any good map material, which could be oriented. We recommend exploring only the immediate surroundings of Khao Lak - within a radius of 20 km. Further distant destinations to explore costs a lot of time, because you get lost easily since not everything is well signposted. Please do not rely on information from Thais when you are traveling and ask for directions. They often know just a little of their immediate environment and if, they have problems explaining the way. So it often turns from a nice day, which one planned, a stressful day, without having found the desired location.
Especially if you come to Khao Lak for the first time, you should take a tour organized by a travel agency. The operators must have a TAT license and a liability insurance. We only arrange directly with an operator that guarantees the highest quality and safety for our guests.
Distance
To Phuket town about 130 km, Phang Nga bay about 70 km, Khao Sok about 80 km, Cheow Lan Lake about 120 km, Surathani about 150 km.
Tours
Tuesday & Friday
Elephant Experience
Thursday & Sunday
Nature and Culture
Thursday & Monday
Phang Nga Discovery
on request
Khao Sok Highlights