TRAINING PHILOSOPHY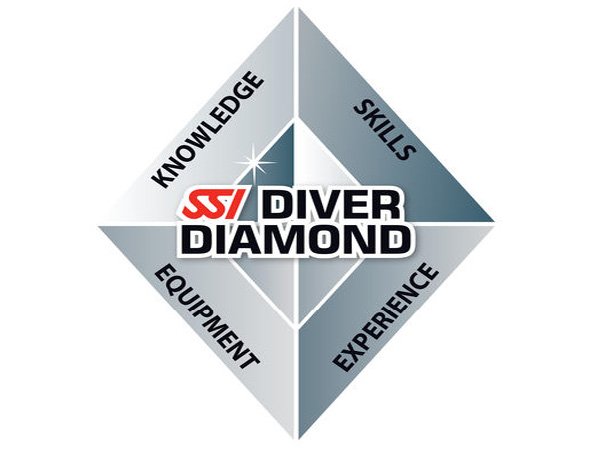 OUR FOCUS ON HIGH-QUALITY INSTRUCTION IS WHAT SETS SSI TRAINING APART FROM THE REST
SSI programs provide an underwater experience that brings people together as they learn the value of communication and cooperation, both above and below the surface. The SSI range of programs is one of the most effectively designed and thoroughly tested diver education systems in the world. There are four distinct components tp becoming a diver — proper knowledge, skills, equipment and experience.
We call this the SSI Diver Diamond.
KNOWLEDGE
Knowledge replaces anxiety and fear with correct information. There are many ways you can start an SSI program — traditional training, home study or online training. No matter which way you decide to take the program, it will be taught the same way — using the SSI Total Teaching System. During interactive review sessions, your SSI Dive Professional will teach you how "land value" — what you learn out of the water — relates to "water value" — what you do with information in the water.
SKILLS
The best way to learn essential skills is through continuous and correct repetition. The goal of this repetition is to learn the skills so well that they can be performed automatically, and without conscious thought. This is SSI's signature water training method: "Comfort Through Repetition." We believe it is vital to take plenty of practice time to develop the skills necessary to become a competent and comfortable diver. Your SSI Dive Professional will lead you through a series of comprehensive skill exercises for you to practice until they become second nature.
EQUIPMENT
We want you to be comfortable with every phase of your training. Your SSI Dive Professional will teach the class as if you will become a diver and make the investment in your own equipment. While the decision to invest in your own equipment is ultimately yours, our years of experience have taught us that the easiest way for you to become a diver is in your own high-quality Total Diving System. Understanding how to operate your own equipment ensures you enjoy every minute of every dive, and that you don't waste time learning how to operate unfamiliar or ill-fitting equipment. This increases your diving ability, and adds an element of well-being and confidence to your experiences. If you choose not to purchase your Total Diving System, the best way to get started is in your own personal Snorkeling and Exposure Systems. Your SSI Dive Professional will work with you to carefully select the appropriate equipment that is right for you.
EXPERIENCE
Training develops knowledge and skills, but the only way to get real experience as a diver is to go diving! This is why SSI encourages you to participate in more open water dives during your training than just the minimum required number. The more you dive, the more you will enjoy the sport. So, get out there, explore new worlds, meet new friends and see why diving with an SSI Dive Center is "The Ultimate Dive Experience!"
Here you find all specialties we offer - some with, some without dives
To earn the certification for Advanced Open Water Diver, you must complete 4 diving specialty courses (up to you which ones)
and have logged a total of 24 dives.
* These specialty's do not count towards AOW diver rating at the moment!