Koh Bida Nok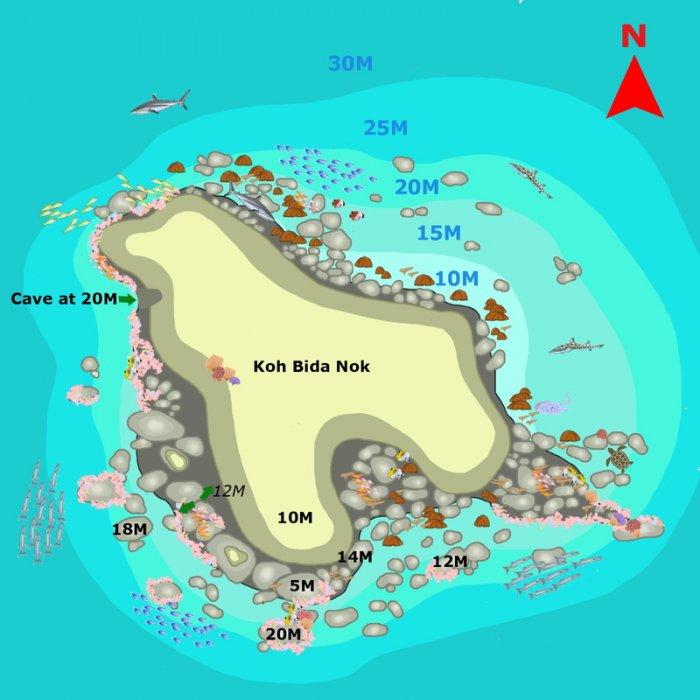 Koh Bida Nok



Translates as "Outer Father" and is one of Phi Phi's top diving locations. Its cliffs, dropping straight down into the blue are covered in a vast array of soft corals and purple, aquamarine, pink, and blue anemones. This makes it a colorful and interesting wall dive. In the south, this tiny limestone island has a nicely sheltered underwater bay, which is great to start the dive. From there it is a shallow gradually descending dive along a ridge named Finger Reef.
On the shallower lagoon side, several types of morays, juvenile boxfish, and scorpion fish are often spotted. Once you reach the edge of the reef on its south point, you will find a steep wall that is decorated in vibrant anemones, table corals, bubble corals, and giant brain corals along with beautiful gorgonian sea fans, sea whips, and barrel sponges. A Tiger tail Sea Horse is sometimes found hiding in sea fans at 14-16 meters. The coral is covered in shoals of small fish among groups of hunting trevally. Turtles are occasionally seen on this reef. A vertical swim-through at the southwest side of the island, beautifully illuminated by surface light, is not to be missed.
Following the wall to the west, there are lots of overhangs and caverns to discover that make perfect hideouts for lionfish, bearded scorpionfish, bird wrasse and moon wrasse, Moorish idols, parrotfish and honeycomb groupers. Octopuses are often seen here and white-eyed morays, which can be seen in the cracks and crevices, are numerous. Look out also for shrimps, crabs, rock lobsters and many species of nudibranch. Across the sandy area outside of the lagoon, you can find Kuhl's stingrays. The seabed is littered with sea urchins, sea cucumbers, blue starfish, and sometimes cuttlefish too. The east is an easy sloping reef with many reef fish around its patches of coral. Leopard Sharks may be spotted sleeping on the sandy bottom and Black Tip Reef Sharks are often spotted in the shallow areas during the safety stop!
On the northern side of the island, you can check a narrow cave. The cave's entrance is at 20 m and the wall is covered with colorful soft corals and gorgonians.
Coming up after your dive, enjoy the magnificent rock formation above the water where sea eagles and kites circling circle above in the sky.
Thank you to
Phuket Dive Guide
for the provision of the map.