Wreck Park T-13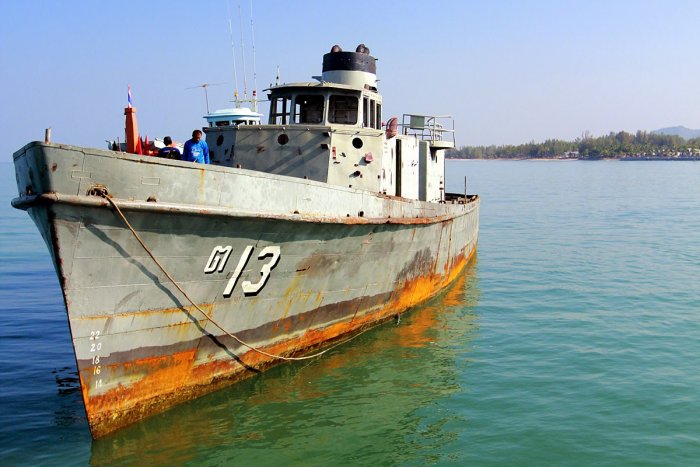 On March 22, 2014, the T-13 patrol boat was sunk about 4 kilometers off Khao Lak at La Flora Resort as the first part of a wreck park called
Khao Lak Underwater World
.
Later, a second patrol boat is to join T-13 and over the years the wreck park is to be supplemented by several used trucks, tanks, train carriages, old aircraft and in a few years even a full-blown warship.
The aim of the project is the creation of a dive site in the immediate vicinity of the beach resorts of Khao Lak, on the one hand, to offer the new dive tourism new excursion possibilities. Furthermore, the experience of the Boonsung Wreck, a tin mining machine sunk in front of White Sand Beach in 1984 and one of Khao Lak's most popular dive sites, shows that steel wrecks in this area are extremely beneficial to underwater fauna.
These wrecks provide perfect breeding and mating conditions for all types of aquatic life - the abundance of fish on the Boonsung Wreck, e.g. far exceeds than at the Similan Islands. Furthermore, several studies on the Boonsung Wreck have shown that the vast majority of them are young, which have perfect growing conditions. Once individuals reach adulthood, they leave the wreck and populate the surrounding sea.
There is also the hope of the local fishing industry that the new wrecks have a positive impact on the fishing grounds of the entire area. In the weeks after the sinking of the ship, therefore, were also several fishing boats at night on site, directed their strong lights, which are actually used for fishing, on the new wreck to lure the underwater life to the wreck. This was the first known case in Khao Lak where fishing boats contributed to the blossoming of a dive site ...
Now the wreck lies at about 12 to 15 meters, the shallowest point is about 8 meters deep - depending on the tides. Due to the close proximity and easy accessibility with our long-tail boat, a trip to the T-13 wreck is possible as a half-day tour. The shallow depth is perfect for beginners' courses, and it also gives experienced divers two neat long dives, as with a surface break (lunch break) of about an hour, enough rest time can be set up for a second 60-minute dive.
Specifications
Name: T-13
Commissioning: 1968
Shipyard: Peterson Builders
Country of origin: USA
Decommissioned: October 19, 2011
Displacement: 130 tons
We are using this wreck for the second dive on beginner courses.
Itinerary
On request
Pictures: Arandora (Google Album) and Natt (iQ-DIVE Khao Lak)